Summary
| | |
| --- | --- |
| Assesses: | Mechanical aptitude |
| Skill Level: | Apprentice |
| Test Format: | 60 Items , Multiple-choice |
| Language: | Spanish |
Description
The Wiesen Test of Mechanical Aptitude (WTMA) is a new aptitude test developed to measure mechanical aptitude and reduce impact on females.
In a group of 80 African American and Hispanic Students, there was no significant difference in scores of males and females.
The Wiesen Test of Mechanical Aptitude has 60 questions in a multiple-choice format. Each question uses a diagram with everyday objects to illustrate a mechanical principle or fact. It has been found to be highly correlated with other measures of mechanical aptitude.
Test scores were significantly related to performance as rated by supervisors of 102 employed machine operators. The mean was 63% and standard deviation was 13.88. Test scores were also significantly correlated with performance ratings of 169 employed chemical operators.
This test was translated into Spanish.
Examinee Scoring System Compatible
Sample Reports
Sample reports are not yet available for this particular product.
Reports available in our system can be found in our

Technology Solutions Brochure [PDF] .
Administration Manual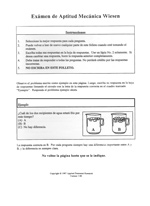 Compare
| | |
| --- | --- |
| Qty | Price |
| 20 to 99 | $26.00 each |
| 100+ | $24.00 each |
Administration Manual
$25.00 each
In Stock
Minimum quantity is 20.
Call for information about samples.