Summary
| | |
| --- | --- |
| Assesses: | Knowledge of welding |
| Skill Level: | Journey-level |
| Test Format: | 60 Items , Multiple-choice |
| Language: | English |
Description
This test measures knowledge and skill in the area of welding.
Content Areas
Categories tested include:
– Print Reading
– Welding Process
– Types of Welds
– Types of Joints
– Welding Positions
– Filler Metals
– Processes Related to Welding
– Welding Metals
– Welding Defects
– Repair Welding and Surfacing
– Tools & Machines & Equipment
Sample Question
What color is an acetylene hose?
---
Red
Green
Black
Yellow
O*NET
†

Job Titles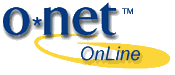 Below are the O*NET job titles that were determined to be applicable to this test during the job analysis. Click the Job Title for more information about tasks performed, tools and technology used, job knowledge areas and abilities required, as well as related job titles.

This assessment is intended for use with jobs that are sufficiently related.
[Welders, Cutters, and Welder Fitters]
Use hand-welding or flame-cutting equipment to weld or join metal components or to fill holes, indentations, or seams of fabricated metal products.
†O*NET™ is a trademark of the U.S. Department of Labor, Employment and Training Administration.
Product Statistics
This data was calculated from a group of candidates in various fields.
Sample
Size
Mean
Score
Reliability
(KR20)
Std.
Deviation
Std. Error of Meas.
51
37.7
.88
9.76
3.4
Examinee Scoring System Compatible
Sample Reports
Sample reports are not yet available for this particular product.
Reports available in our system can be found in our

Technology Solutions Brochure [PDF] .
Administration Manual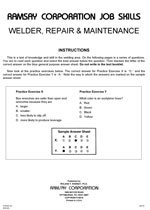 Compare
| | |
| --- | --- |
| Qty | Price |
| 20 to 99 | $26.00 each |
| 100+ | $24.00 each |
Administration Manual
$25.00 each
In Stock
Minimum quantity is 20.
Call for information about samples.