Summary
| | |
| --- | --- |
| Assesses: | Reading, Problem Solving |
| Skill Level: | Entry |
| Test Format: | 24 Items , Multiple-choice |
| Language: | English |
Description
This is a combined basic skills test covering areas relevant to the industry of custodial services.
Online Credits
When you purchase this product, you purchase online test administration credits. These test credits, once purchased, are placed in your online account and do not expire. Each credit can then be assigned to a test-taker for administration of this test via an internet-connected computer.
System requirements for our Online Testing System are available on our help system.
All tests administered on the Online Testing System are required to be proctored by a representative or third-party agent of the company.
A Getting Started Guide is also available for new users of our Online Testing System.
Sample Question
When pushing a car you should put it into
---
drive.
overdrive.
neutral.
reverse.
Tests
This product is a battery of tests. The tests in this battery are:
Test Name
Number
of Items
Time Allotted
In Minutes
Reading
12
12
Problem Solving
12
14
TOTAL
24
26
Product Statistics
Sample
Size
Mean
Score
Reliability
(KR20)
Std.
Deviation
Std. Error of Meas.
171
17.99
.69
3.34
1.86
Examinee Scoring System Compatible
Sample Reports
Sample reports are not yet available for this particular product.
Reports available in our system can be found in our

Technology Solutions Brochure [PDF] .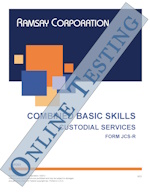 Compare
| | |
| --- | --- |
| Qty | Price |
| 20 to 99 | $18.00 each |
| 100+ | $16.00 each |
In Stock
Minimum quantity is 20.
Call for information about samples.