Summary
| | |
| --- | --- |
| Assesses: | Reading, Checking Accuracy, Problem Solving |
| Skill Level: | Entry |
| Test Format: | 54 Items , Multiple-choice |
| Language: | English |
Description
This test was developed to evaluate the ability to read and comprehend the material read, to measure checking accuracy, and to measure problem solving skills for call center workers. The test was intended for use with applicants and incumbents for jobs where reading, checking accuracy, and problem solving skills are a necessary part of training or job activities.
Sample Question
When pushing a car you should put it into
---
drive.
overdrive.
neutral.
reverse.
Tests
This product is a battery of tests. The tests in this battery are:
Test Name
Number
of Items
Time Allotted
In Minutes
Reading
16
15
Checking Accuracy
18
14
Problem Solving
20
20
TOTAL
54
49
Examinee Scoring System Compatible
Sample Reports
Sample reports are not yet available for this particular product.
Reports available in our system can be found in our

Technology Solutions Brochure [PDF] .
Administration Manual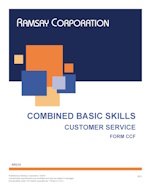 Compare
| | |
| --- | --- |
| Qty | Price |
| 20 to 99 | $18.00 each |
| 100+ | $16.00 each |
Administration Manual
$25.00 each
In Stock
Minimum quantity is 20.
Call for information about samples.