Summary
| | |
| --- | --- |
| Assesses: | Project planning |
| Skill Level: | Journey-level |
| Test Format: | 60 Items , Multiple-choice |
| Language: | English |
Description
Matching the right resources to complete the tasks required for continuous operation is more important now than ever before. Use the newly developed Maintenance Planner Test to ensure you hire the person who can best accomplish that for you. This test, developed in November 2012, by Ramsay Corporation, assesses the knowledge of prospective Maintenance Planners.
Maintenance Planners face the daily task of helping the maintenance department at their facility work efficiently and effectively. They must not only have the skills required to maintain the equipment using safe working practices, but must also have thorough knowledge of workflow processes, troubleshooting, and planning techniques.
To develop this test, we researched Maintenance Planner job descriptions and training programs across the country. Maintenance Planner Test is intended for use in selecting individuals who will be planning and coordinating maintenance projects.
Online Credits
When you purchase this product, you purchase online test administration credits. These test credits, once purchased, are placed in your online account and do not expire. Each credit can then be assigned to a test-taker for administration of this test via an internet-connected computer.
System requirements for our Online Testing System are available on our help system.
All tests administered on the Online Testing System are required to be proctored by a representative or third-party agent of the company.
A Getting Started Guide is also available for new users of our Online Testing System.
Content Areas
Categories tested include:
| | | |
| --- | --- | --- |
| – Electrical | – Mechanical | – Print Reading |
| – Computer and CMMS | – Planning | – Safety |
Product Statistics
This data was calculated from a group of applicants and incumbents nationwide.
Sample
Size
Mean
Score
Reliability
(KR20)
Std.
Deviation
Std. Error of Meas.
24
37.63
.75
6.58
3.29
Examinee Scoring System Compatible
Sample Reports
Sample reports are not yet available for this particular product.
Reports available in our system can be found in our

Technology Solutions Brochure [PDF] .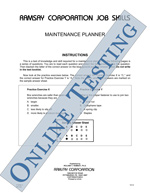 | | |
| --- | --- |
| Qty | Price |
| 20 to 99 | $26.00 each |
| 100+ | $24.00 each |
In Stock
Minimum quantity is 20.
Call for information about samples.