Summary
| | |
| --- | --- |
| Assesses: | Basic mechanical knowledge |
| Skill Level: | Apprentice |
| Test Format: | 49 Items , Multiple-choice |
Description
Ramsay Corporation's Mechanical Repair Apprentice Battery is a basic skills test battery originally designed to measure 5 different areas: Reading; Arithmetic; Measurement; Reading Prints & Drawings; and Basic Mechanical Knowledge. Later, a sixth test, Troubleshooting and Problem Solving, was added to the battery to assess that aspect of a candidate.
The Arithmetic test can be used to determine arithmetic skills that would be required of a mechanical apprentice.
The Basic Mechanical Knowledge test measures knowledge of basic mechanical concepts, such as tools and tool use that could be expected of a mechanical apprentice.
The Measurement test assesses the ability to measure objects.
The passages in the Reading test are related to basic mechanical concepts and concepts that a mechanical apprentice may be required to learn while on the job.
The Reading Prints & Drawings test measures a mechanical apprentice's ability to read mechanical prints and drawings.
The Troubleshooting and Problem Solving test is an addition to the original battery that measures an mechanical apprentice's ability to troubleshoot and problem solve.
The 6 tests in this battery are more demanding of job knowledge than a basic skills battery, but less demanding than our Mechanical Maintenance Trainee Test.
Each test sold separately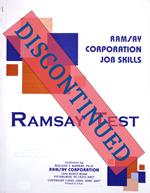 This test is no longer available for purchase.